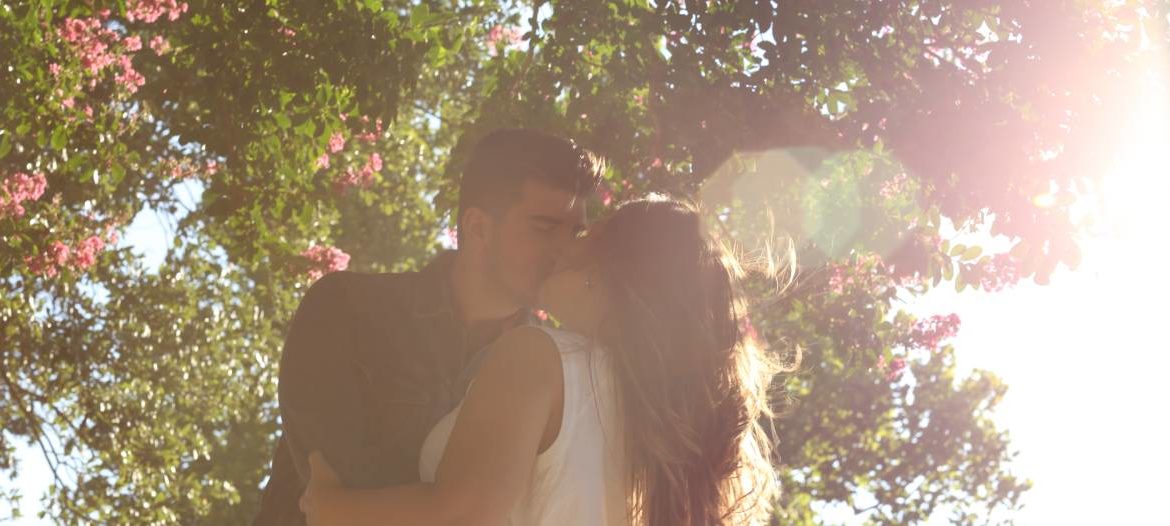 BLOG
I Love You to the Moon and Back Similar Quotes
Sometimes it is hard to be romantic and the only thing you can think of doing or saying is 'I love you'. Used too often, those all important 3 words start to lose their meaning or become so casual that your partner feels anything but loved. Not everyone is good with articulating words and quite often saying what you truly want to say may come across in an unintended way.
Keep the Romance Alive
No matter what relationship milestone you are at, expressing your love and keeping the romance alive is the foundation for any couple. Relationship experts suggest in order to keep the relationship healthy, communicating your love to your partner is key. Sometimes the problem between a couple is in fact communication or lack of. So use those 3 simple words or phrases like 'I love you to the moon and back'. Better still just tell your partner how much you miss them when they are not around.
If you are looking for another way to express your love or a gift to celebrate your relationship milestone, you may find a personalized Moon Print ticks all your boxes. Studies have proven that people are moved the most by a memory with a loved one. A personalized Moon Phase print can perfectly capture a significant moment between you and your partner.
A physical memory that can show your love forever, this print will show your partner how much that significant date means to you both. If you do want to express your feelings further, you are able to add a message; and because it is on a print you have more time to think about it rather than saying the wrong thing.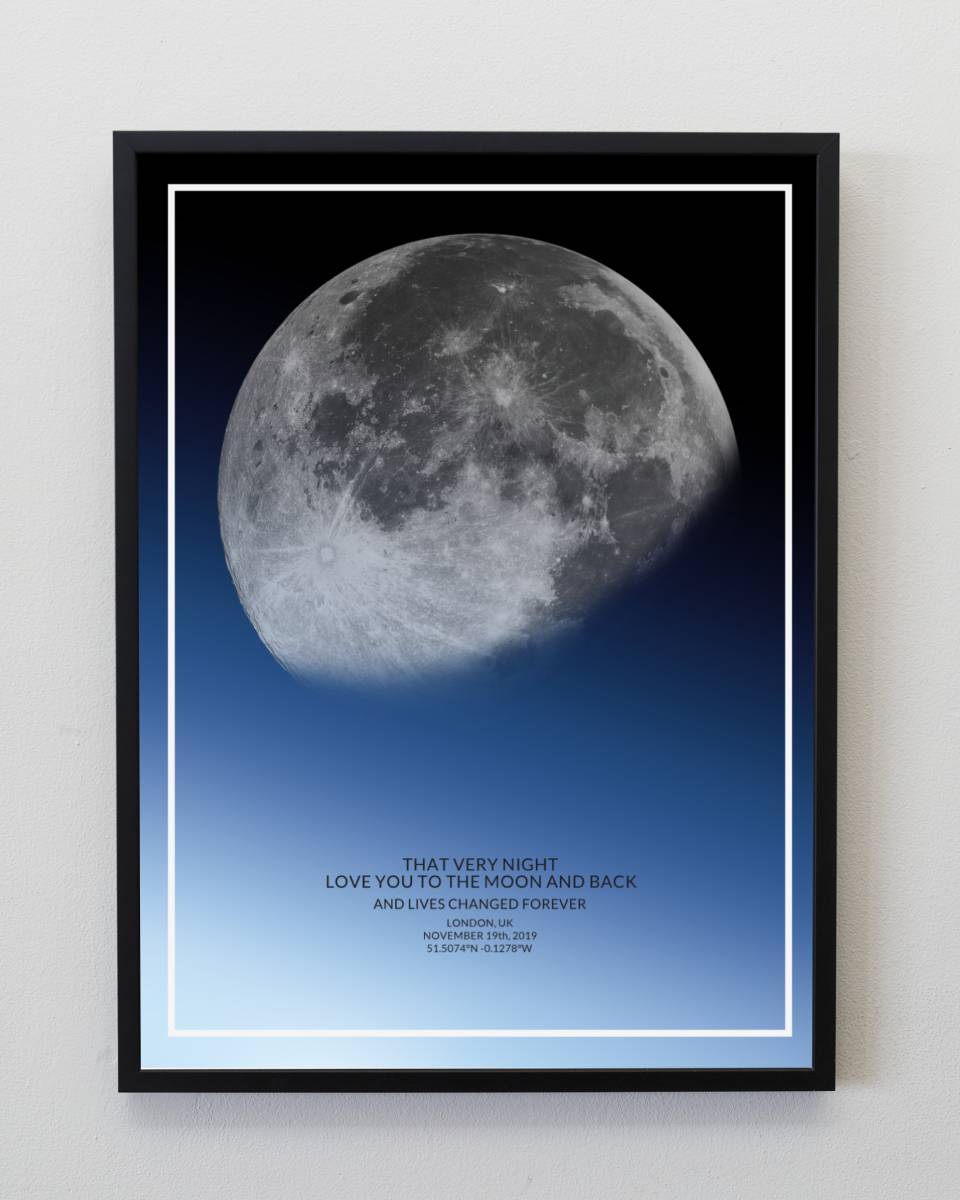 "I love you to the moon and back" similar quotes:
Butterflies in my stomach flutter whenever I'm with you.
You're the apple of my eye.
I will be there for you through thick and thin.
You're my partner in crime.
I love you more than words can do justice.
I keep falling in love with you over and over again.
We fit together like puzzle pieces
You've got me head over heels.
Thank you for reminding me what butterflies feel like.
If I did anything right, it's you.
And there will be someone that comes along one day and offers you an entire galaxy when you only expected a single planet.
You are my world. Gravity always pulls me toward you.
Some people search their whole lives to find what I found in you.
A sky full of stars and I was staring at you.
I love you with the fire of a thousand suns.
I know I'll be fine when you're near me.
I will always catch you when you fall.
You keep me under your spell.
I love you with my whole heart and soul.
I can't say it enough – I love you more than anything.
The world is a better place with you in it.
I feel like we can take on the world together.
You mean the world to me.
Meeting you was the best thing that's ever happened to me.
You aren't just my soulmate, you're a part of my soul.
You take me to the moon and back.
You are the sunshine in my day and the moonlight in my night.
Find out more about your Moon Phase
Every Moon Phase has a different meaning. Unmask the mystery of the Moon with us.
Enter your email below to receive more infomation about your Moon Phase.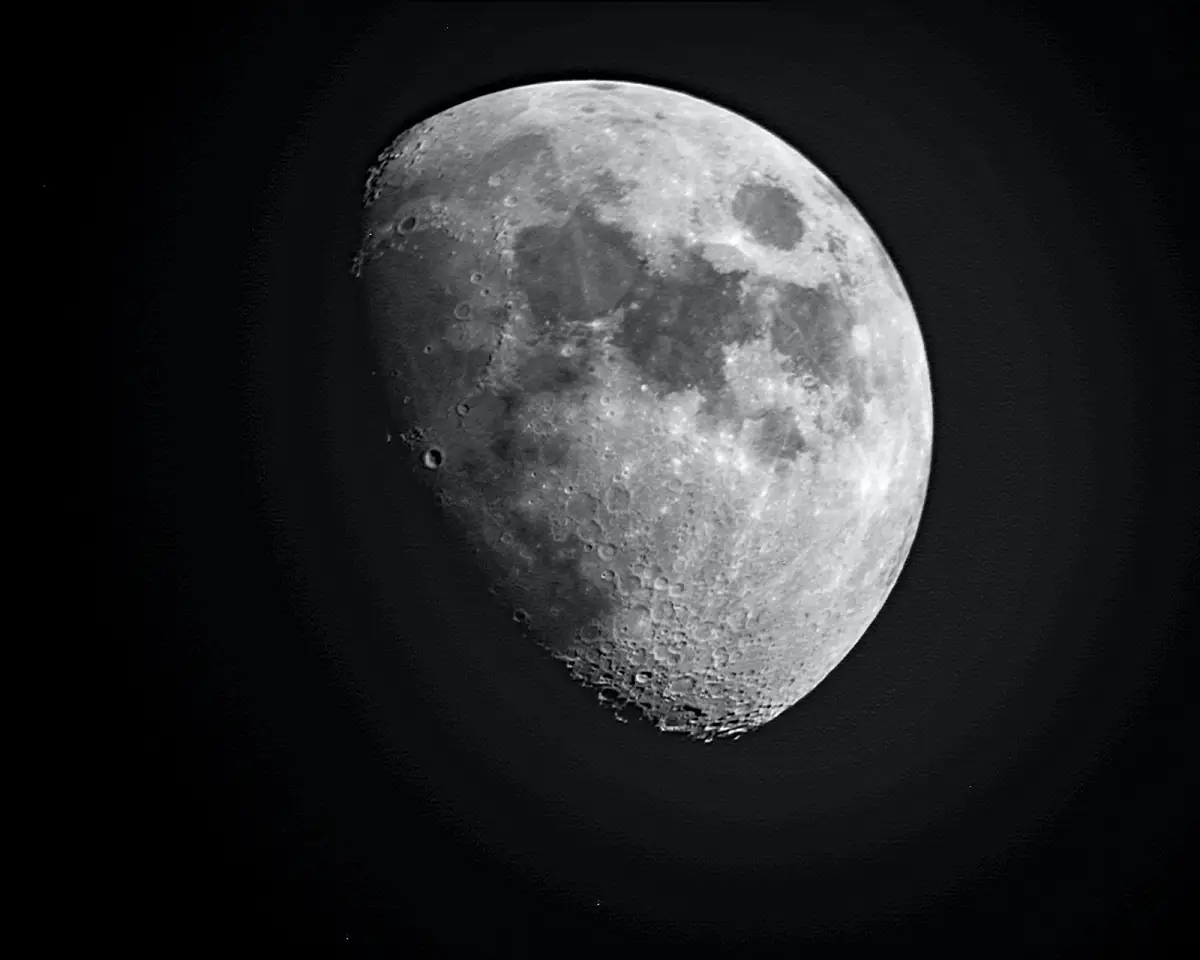 FIND OUT MORE ABOUT YOUR MOON PHASE
There are more secrets behind your moon phase. Enter your email below to find out more.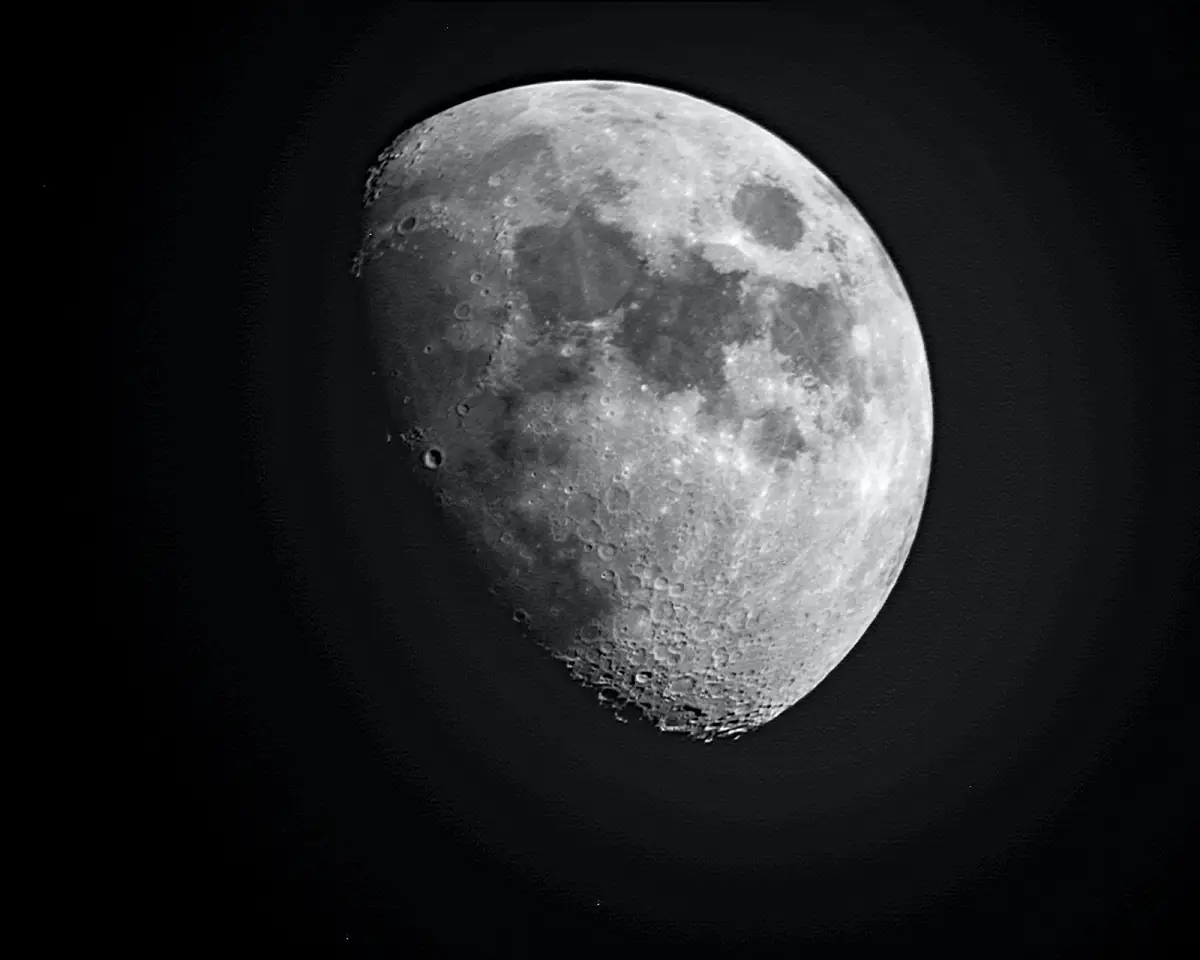 Inspiring quotes about the Moon and Love
If your loved one is someone who feels an unexplainable, magical attraction for the Moon and the Stars, well, they are not alone. People around the world at different ages share a love for the moon. We have carefully curated a collection of the most beautiful and inspiring quotes about the Moon and Love:
"Always remember we are under the same sky, looking at the same moon." — Maxine Lee
"If you strive for the moon, maybe you'll get over the fence." — James Woods
"Those are the same stars, and that is the same moon, that looks down upon your brothers and sisters, and which they see as they look up to them, though they are ever so far away from us, and each other." — Sojourner Truth
"I always look up at the moon and see it as the single most romantic place within the cosmos." — Tom Hanks
"This is not only a full moon for me. This is an image of your face for me." — Gaurav G.R.V. Sharma
"That what secretly flows between us today, will gleam tomorrow, the way full moon does." — Rafy Rohaan
"Be like the moon in someone's sky and show her the way of life with your loving silvery lights during the darkness." — Debasish Mridha MD
"The Moon is the first milestone on the road to the stars." — Arthur C. Clarke
"If you are the moon, it's not the sun that reminds you of the light: it's the darkness that makes you shine." — Jennifer Williamson
"You are my sun, my moon and all of my stars." — E. E. Cummings
"I want to be in love with you the same way I am in love with the moon with the light shining out of its soul." — Sanober Khan
"The moon is the reflection of your heart and moonlight is the twinkle of your love." — Debasish Mridha
If you are still out of ideas, think about what you feel for your loved one and how they make you feel. When your heart was beating so fast at your first kiss? Or the time when he/ she said 'I do'.
To inspire you further here are some ideas to help tell your personal love story for your print That Very Night.
Capture That Very Moment
Craft your very own beautiful custom Moon Phase Print to encapsulate the magical moments in your life that you and your loved ones can treasure forever.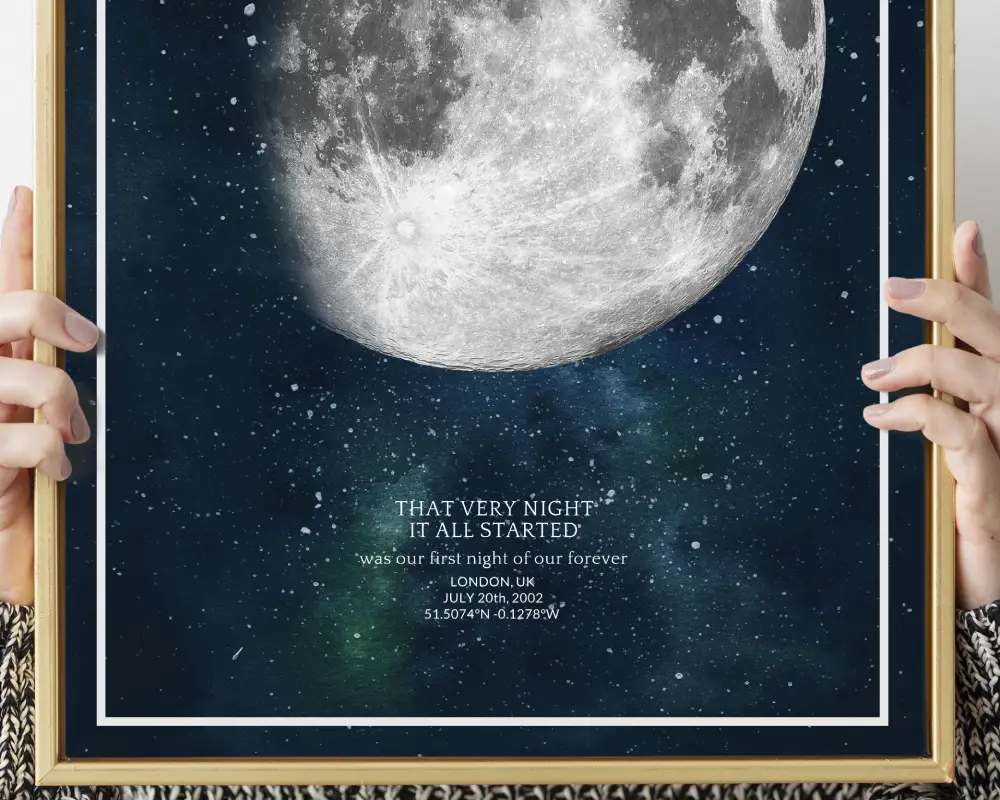 ---