BLOG
10 Unique Gift Ideas your loved one deserves (that you can not find on Amazon)
Special occasions and festive dates are times to spend with loved ones and are a great opportunity to show them how thankful and loved they really are to you. Whilst you can always find something at your go to place Amazon, it's always extra special to receive meaningful gifts that have memorable connections. What better gift to share than one that commemorates a special moment in time that you and your loved one shared together. That Very Night recreates the exact Moon Phase of your chosen date, time and location and creates a print that shows your everlasting memory.
We have picked 10 magical gift moments to inspire you to create your own personalised print.
1. First Wedding Anniversary
First Wedding Anniversaries are a memorable occasion and a great date to reminisce about the celebration. Traditionally it is believed that paper is the first anniversary gift because it symbolizes the blank pages on which you write the newest chapter in your life. You can surprise your loved one with a Moon Phase Paper Print of your wedding date personalising with your vows and promises from the wedding.
The moon print can also be a perfect backdrop at the wedding reception to show your guests the journey and love story that they have come to celebrate.
My fiance loved this piece!
My fiance loved this piece. It had her crying tears of love and joy. One of the best gifts I could give her. I look forward to having hang as a center piece for the rest of our lives. Thank you so much for this beautiful memory we continue to share.
2. The First Date
Many remember that very moment that you both met. You could say it was love at first sight. A great way to commemorate the very first time you met by showing what the Moon Phase looked like That Very Night.
3. The First Kiss
Kisses become part of your everyday life with your loved one, so much so it may become a routine. However remembering your first kiss and that particular moment of passion will always be embedded in your mind.
4. Engagement
Whichever way, that moment that you choose to spend the rest of your lives together is one of the most important decisions to remember. Committing to each other and beginning a new chapter of your life together is an important step in your relationship that deserves to be remembered forever physically.
5. Birth of your Child
The birth of your child is another significant moment in your life as your precious family grows. The very moment they entered the world is unforgettable and a moment you want to remember forever. A Moon Phase print is a great way to not only style the nursery with a piece of artwork that has a significant meaning but also an easy way to introduce your little one to the stars and the moon.
6. Birth Date
A gift to yourself because you need no other reason. As we take our journey through life, you will feel a range of emotions every day from love and appreciation to rejection and loneliness. Self love is the love we take with us forever. It is so important to show to yourself how important you are and your place in the universe. Show yourself some love with a moon phase print of that exact date and time you were born.
I absolutely love my prints
I absolutely love my prints! I ordered 2 one for each of my kids showcasing their moon (the moon the night they were born). They thought they were pretty cool as well. I had a question or 2 throughout the process of creating and shipping and the customer service was super helpful, prompt and kind. Such a unique and thoughtful gift! Highly recommend!
— Jenna D'ann Bailey Toledo
7. House Purchase
The moment you / you and your partner bought your very own house is definitely an unforgettable memory. The process of buying a house brings along stress, excitement, worry and then finally relief. When you finally walk through the door with your keys in hand, you know that it was all worth it to have a place you call home.
8. Remembering a Loved One
Cherishing and remembering that very night you said goodbye is something you don't have to let go off. Grief and letting go comes in many different shapes and forms. Never forget and keep them close.
Incredible quality and special memories
Absolutely incredible print! I love it. The quality of the paper is amazing, super think and almost velvety. Such a lovely and sentimental gift idea for your loved one or for yourself. My print was to celebrate the last day I seen my grandad before he later passed away. It was an extremely special day and thanks to That Very Night it will always be in my memories!
9. Father's / Mother's day
A lovely gift idea for a parent. Parents are true superheroes taking care of you from birth to...well for some they never stop taking care of you or stop caring. Their love for you is priceless but for them giving birth to you was the greatest moment of their lives and something they are incredibly proud of.
10. Pride
The moment you finally got the courage to tell everyone who you were or wanted to be is one of the greatest and proudest moments you can be thankful for. Love yourself unconditionally accepting imperfections and flaws. Love yourself for who you are.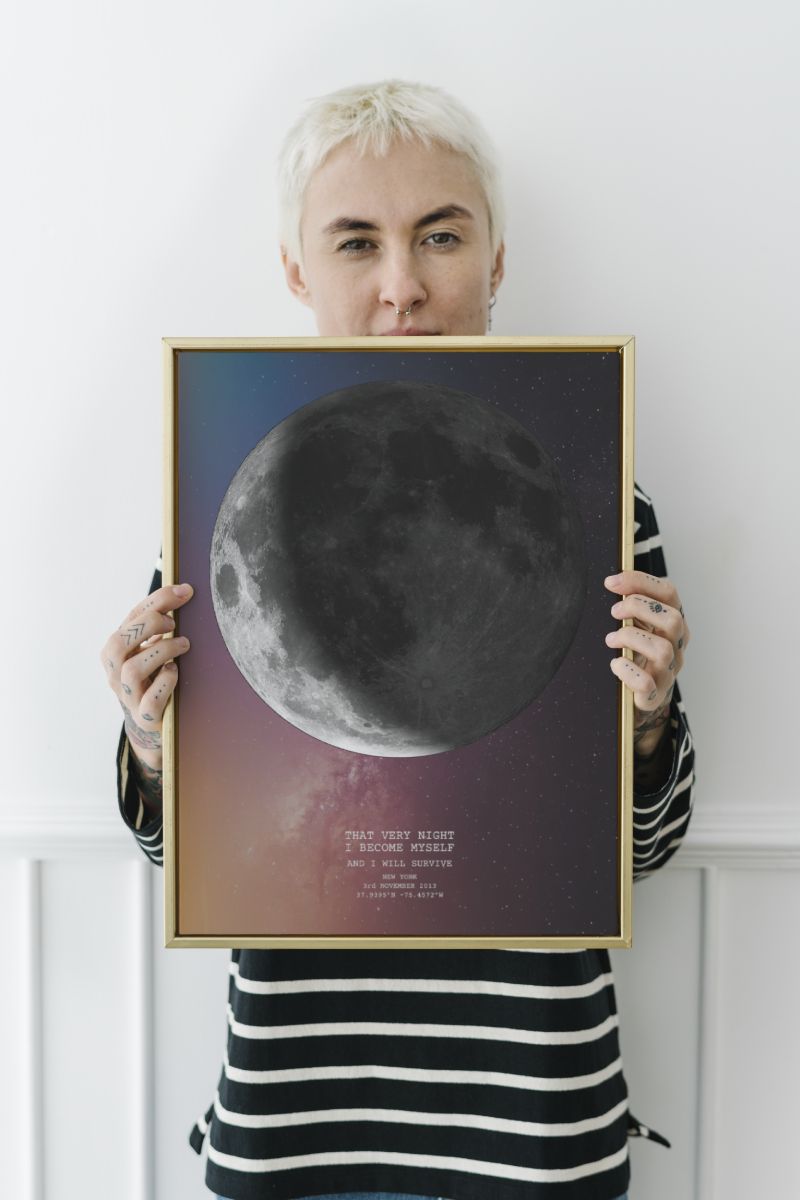 ---