BLOG
A Perfect Romantic Gift For Your Husband
Being in love is incredible, and when you've been with your soulmate for many years, that love only grows and strengthens through the trials and tribulations of a relationship. If your husband has been your best friend, your lover, your rock, and everything in between, it's understandable that you want to do something special for him to show him how much you truly love, care and appreciate him.
The Best Romantic Gift For Him
The next question, of course, is what to buy a perfect romantic gift for your husband that is truly going to surprise him, and isn't seen in every retail outlet you stumble across. Here at That Very Night, we believe we could help you show your husband how much you love him for everything he does and everything he is. There are many thoughtful gifts out there that you could get for your husband, but we think that our moon prints will help you go above and beyond to show your husband everything you want to tell him.
Personalize your gift
You can personalise your moon print with the perfect message for him, whether it be something you always say, something he always says, or even a simple "I love you" - the choice is completely yours. You can also customise your moon print with dates, times and locations to make every detail about that particular moment in time personalised to that staple moment in your relationship.
We work out what moon phase your chosen moment was in and create stunning, high quality prints on museum grade art matte paper with over 190gsm in weight, meaning you're getting only the best quality for the perfect romantic gift for your husband.
You can choose from a range of backgrounds from a completely black sky to a mesmerising sky full of stars and comets. It's completely up to you. During the design process, you also have complete control over other details such as illuminating the moon, which font you'd prefer on your moon print, and whether you'd prefer a portrait or landscape print. We can also include a handmade wooden frame so that your amazing gift can go straight from wrapping paper onto the wall. Your print will be exactly the same as you designed it. (read more ideas at 22 beautilful quotes on our moon prints that you will feel loved)
Buying romantic gifts for your husband can be a difficult decision, and you won't be disappointed with a moon print as the perfect romantic gift! (see what our clients say) If you have any questions or requests, please feel free to contact us at [email protected] at any time, and a member of the team will be happy to help.
Give your husband the gift of the moon to show how much he means to you with one of our stunning moon prints.
P.S. Also check out these great ideas from cosmopolitan and the knot
Capture That Very Moment
Craft your very own beautiful custom Moon Phase Print to encapsulate the magical moments in your life that you and your loved ones can treasure forever.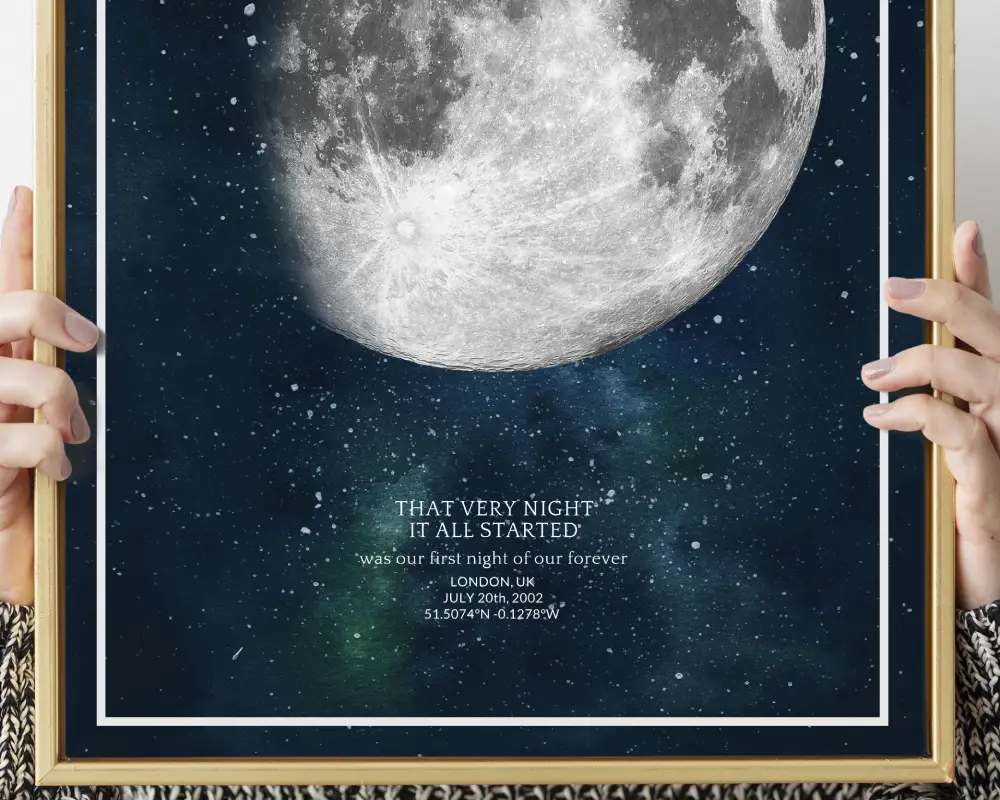 ---