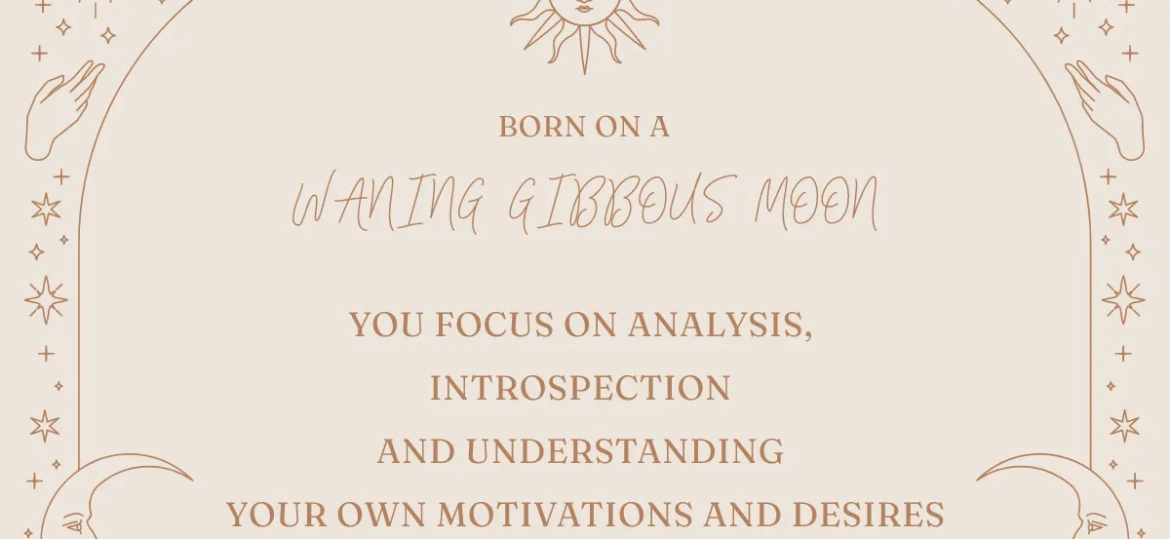 BLOG
Born on a Waning Gibbous Moon: Personality Traits
BORN ON A WANING GIBBOUS MOON
Astrologers claim a mysterious connection between the Moon's phases and the date of birth, which impacts our personality. For a long time, their knowledge remained hidden. But today, we are learning more and more about the powerful influence the Moon's energy has on us.
WHAT ARE THE MOON'S PHASES?
We have a slightly different view of the Moon each night. The eight Moon phases or shapes are New Moon, Waxing Crescent, First Quarter, Waxing Gibbous, Full Moon, Waning Gibbous, Third Quarter, Waning Crescent.
The influence of the Full Moon is quite different from the influence of the New Moon, and the intermediate phases also have entirely different meanings and mysteries on our personality and destiny.
This article will try to unravel the mystery of those born on a Waning Gibbous Moon. What are their personality traits, how do they love, work, and what are their life lessons? Let's find out!
WHAT IS A WANING GIBBOUS MOON?
Without getting too technical, the waning gibbous phase is between a Full Moon and Half-Moon (Third Quarter) — the lit-up part of the Moon shrinks from 99.9% to 50.1%.
BORN ON A WANING GIBBOUS MOON: PERSONALITY TRAITS
Those born on a Waning Gibbous Moon are people who focus on analysis, introspection and understanding their own motivations and desires. They don't get excited as quickly as those around them, using more of their own conscience, value system and beliefs when taking an important step or making a decision. They are often the "wise" of the group, an artistic, reserved and restrained nature. If they are not seen as wise, they are often seen as rebels or "the personification of the devil".
They are haunted by the feeling that they are not complete, that something is missing. This turns them into true warriors fighting for the good of themselves and others. They may be interested in esotericism, magic, astrology and spirituality, as their lives undergo many changes and transformations.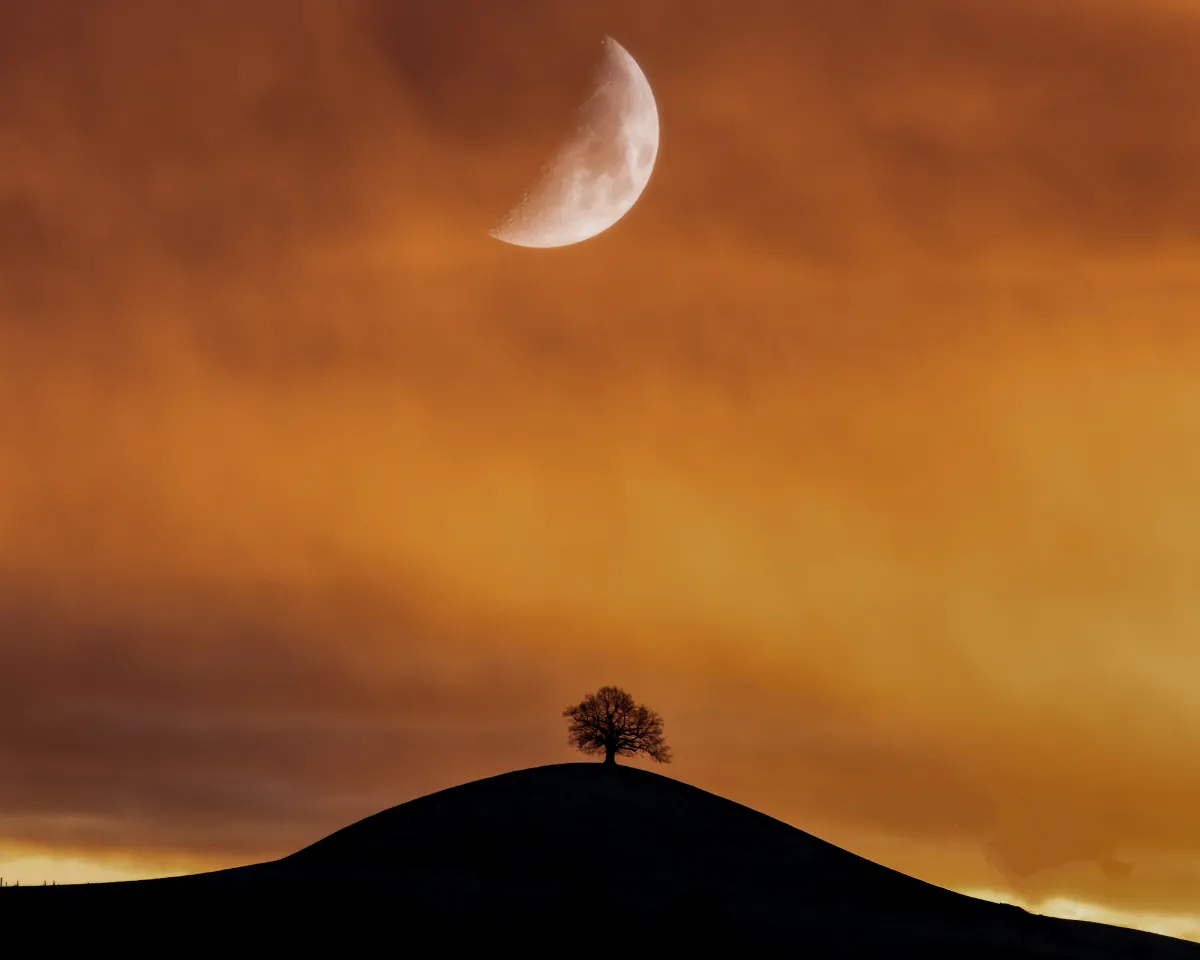 Find out more about your Moon Phase
Every Moon Phase has a different meaning. Unmask the mystery of the Moon with us.
Enter your email below to receive more infomation about your Moon Phase.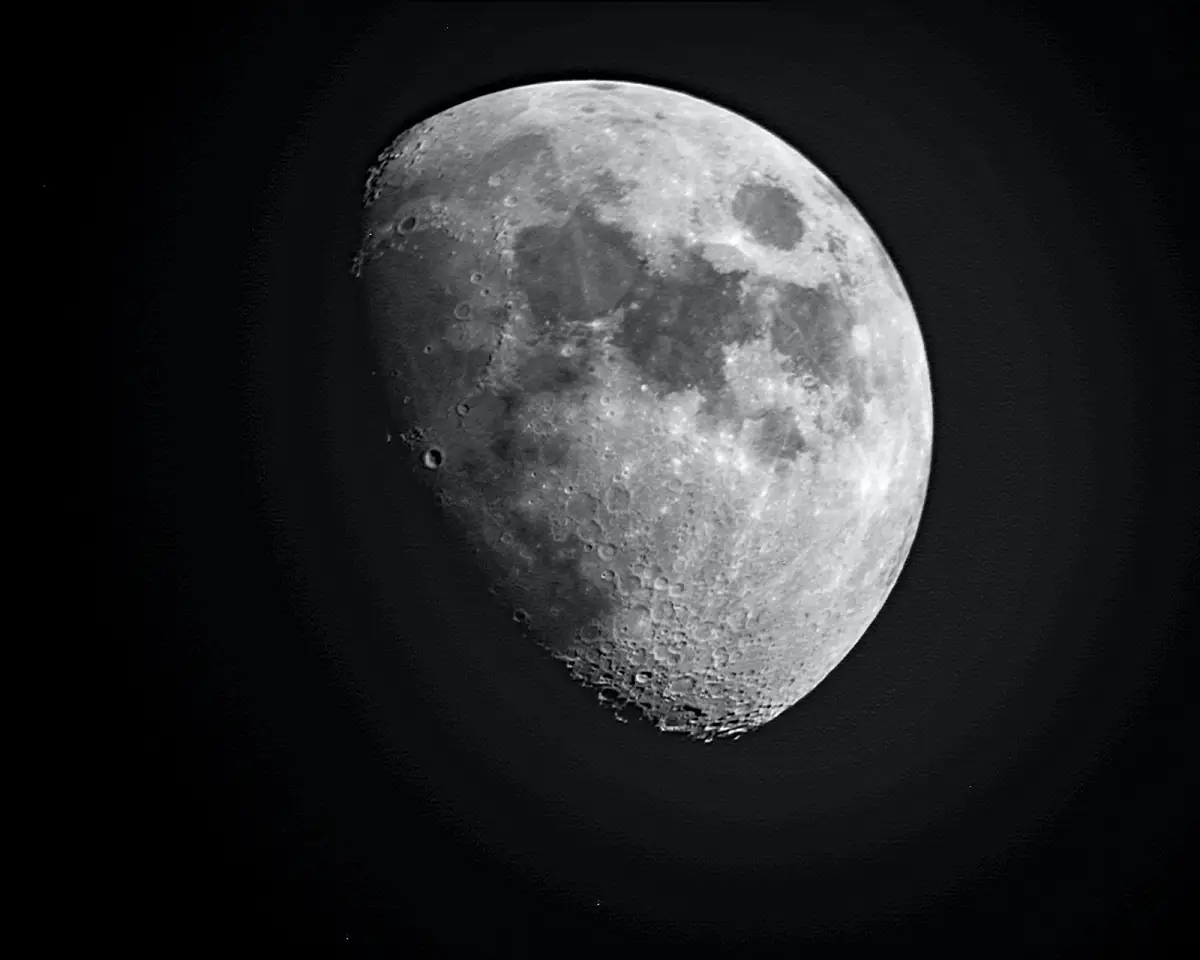 FIND OUT MORE ABOUT YOUR MOON PHASE
There are more secrets behind your moon phase. Enter your email below to find out more.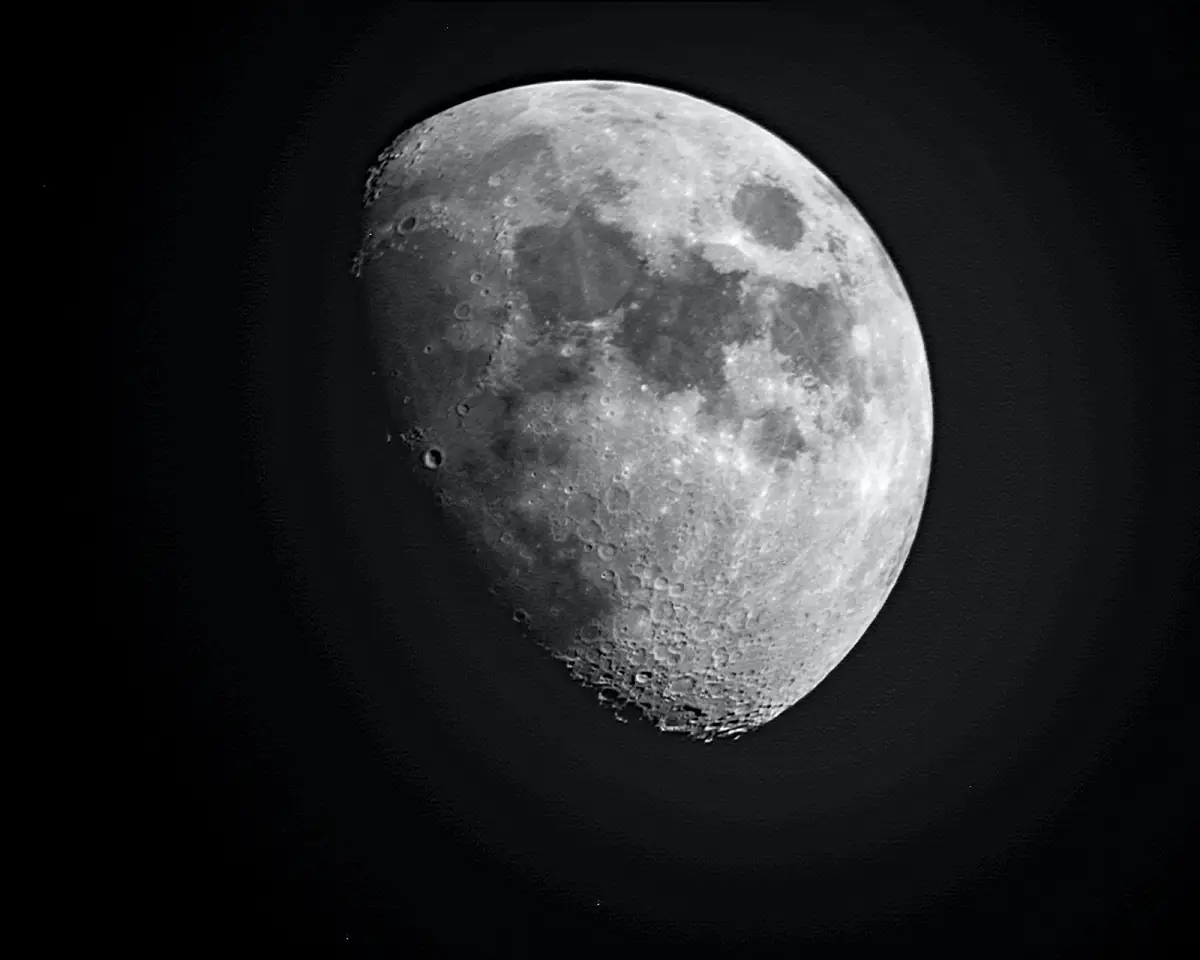 BORN ON A WANING GIBBOUS MOON: LOVE
Those born on a Waning Gibbous Moon are very rebellious souls, living a vast spectrum of emotions and feelings. From high loves to fiery passions. From absolute freedom to obsessions and addictions.
They love to play in relationships, to explore; they are open people—sometimes too open. They end up spicing up their relationships through power games and manipulation. Even if they get what they want from their partners, they feel a soul dissatisfaction that is hard to describe.
They may confuse true love with mere pleasure and passion, and one of their life lessons is to find balance. As soon as they manage to feel and live true love, they are capable of unimaginable sacrifices in the name of love, but at the same time, their hatred is boundless in case of betrayal. Nothing goes unpaid in a relationship with a person born on a Waning Gibbous Moon.
BORN ON A WANING GIBBOUS MOON: CAREER
Eager for success, those born on a Waning Gibbous Moon never shy away from challenges. They have a strong entrepreneurial sense and many professional ambitions. With an ingenious mind, they soon become good at everything. They offer their help every time, but somewhere in the back of their minds, they keep an account of favours and never hesitate to use them when they need.
They say what they mean, sometimes without any discernment, thus sowing much discord in the workplace—oh, and they get a lot of satisfaction, subtly enjoying the way others are consumed with negative emotions.
To achieve professional goals, they are also willing to resort to less ethical procedures. Once the goals and targets are set, they will do almost anything to achieve them. They also need to learn to relax, stop running away from themselves by taking refuge in work.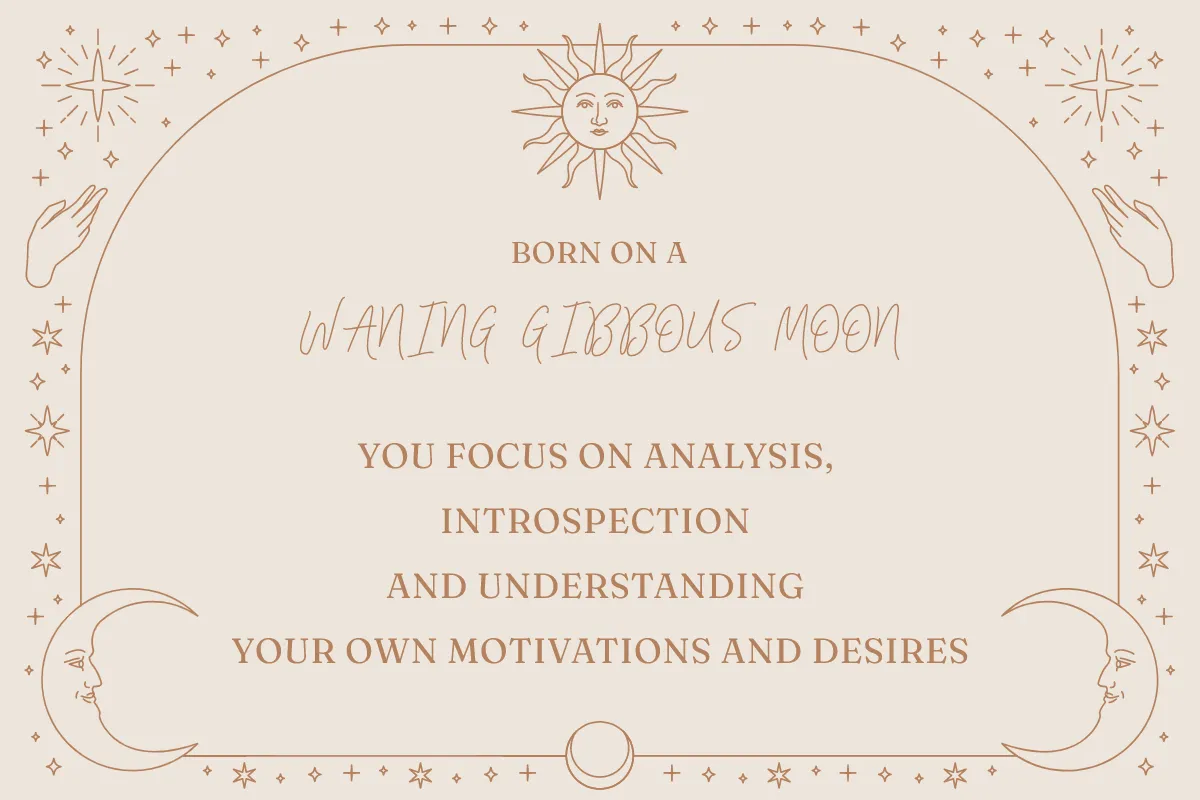 BORN ON A WANING GIBBOUS MOON: CHALLENGES AND LIFE LESSONS
People born on a Waning Gibbous Moon always start out in life with a twinkle in their eye. They are mysterious people but are haunted by the feeling that they have lost something. This feeling of emptiness follows them like a shadow, aiming to make them aware of their inner voice, their soul.
Yes, people born on a Waning Gibbous Moon have in their past lives drifted away from Source, from their true nature—like the Moon drifting away from the Sun—and lost themselves in the darkness. Now they need to get back in touch with their soul. They need to shine, to illuminate their own life and path as the Moon projects its light into the night. Too many metaphors in one paragraph, but this is the life of those born on a Waning Gibbous Moon, full of hidden meanings and secrets.
Their minds are brilliant! They are true geniuses. However, a reason separated from spirit and heart becomes an egocentric mind. One of their main lessons in this life is reconnecting with their true nature, identity, Being and soul.
These people also have enormous potential. There are no obstacles to achieving their goals except death. However, the Universe is intelligent and sometimes has a rather dark sense of humour. Those born on a Waning Gibbous Moon can get to know their mission from a very young age. The earlier they work on themselves, the more harmonious, happy and fulfilled their lives will be. The longer they delay working on their own soul, the more they seek to fill their soul void with vices and pleasures, the more they risk ruin, but it is never too late for transformations and radical changes.
Capture That Very Moment
Craft your very own beautiful custom Moon Phase Print to encapsulate the magical moments in your life that you and your loved ones can treasure forever.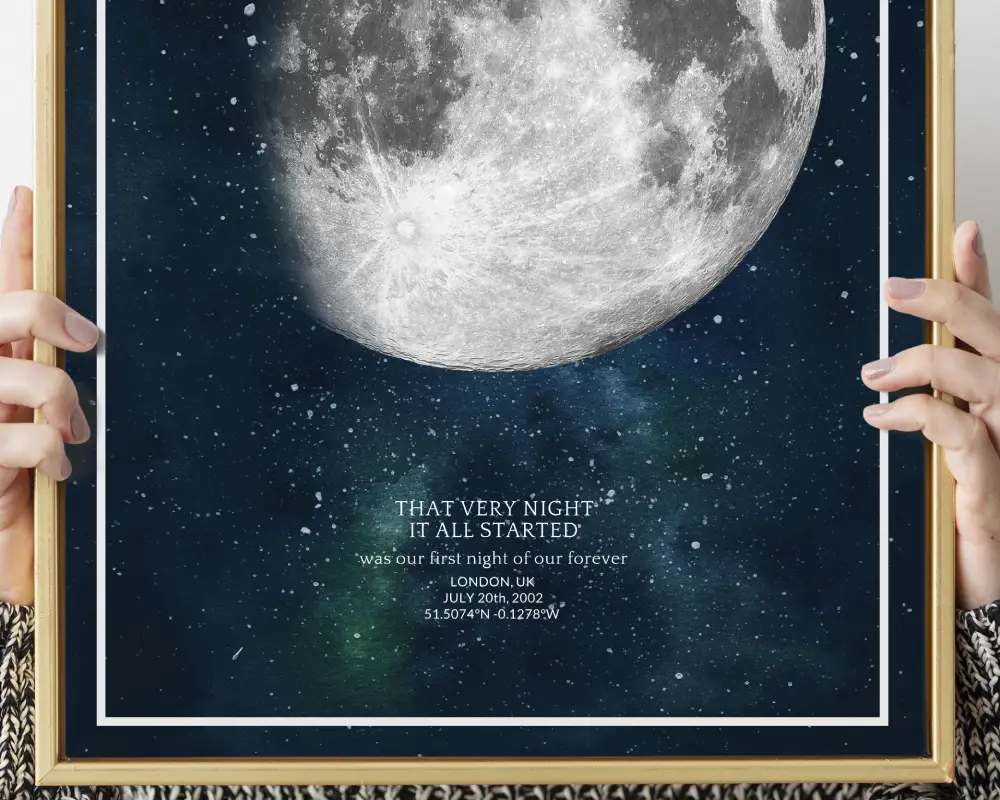 ---