BLOG
9 Moon decor ideas that will brighten up your space
There are many different ideas out there for decorating your living space, and one of them is moon decor. When you look outside at night and see the moon, with its soft glow and ambient lighting, you instantly feel calm and contained. There is something so peaceful about the surface of the moon from here; pitted and cratered though it is. You mimic and embrace the softness of the moon when you introduce the wall decor into your home, and as the moon is so important to our continued life, you could say that you are bringing those peaceful vibes to your home.
The moon is as equally important as the sun, and while the sun is often used in home decor due to its bright colors and warmth, the moon has just as much of a place as the sun does. The moon and the ocean work together harmoniously, and it's a large, celestial protector from all giant rocks that fly our way. Artists all around the world have used the moon as inspiration for their decor in things like wall art, lamp shades, fabric prints, keyrings, magnets and more, and celestial decor can do so much or your peace. You can bring serenity to your space with the moon decor that you choose, and below, we've put together some of the most beautiful moon decor options you could want.
1. Wall Art
For the best moon decor, choose wall art in your bedroom. Peaceful sleep means finding serene, calm items to enjoy, and moon decor wall art is the way to go. There are so many wall art options that feature the moon, from murals to paintings to simple pictures in frames, or you can design your very own moon decor. You can increase the energy of the space and make you feel at ease when you relax into the room. Wall art can come in a variety of shapes and sizes and as long as the moon decor is the theme, you're going to make the right choice for the space you're in.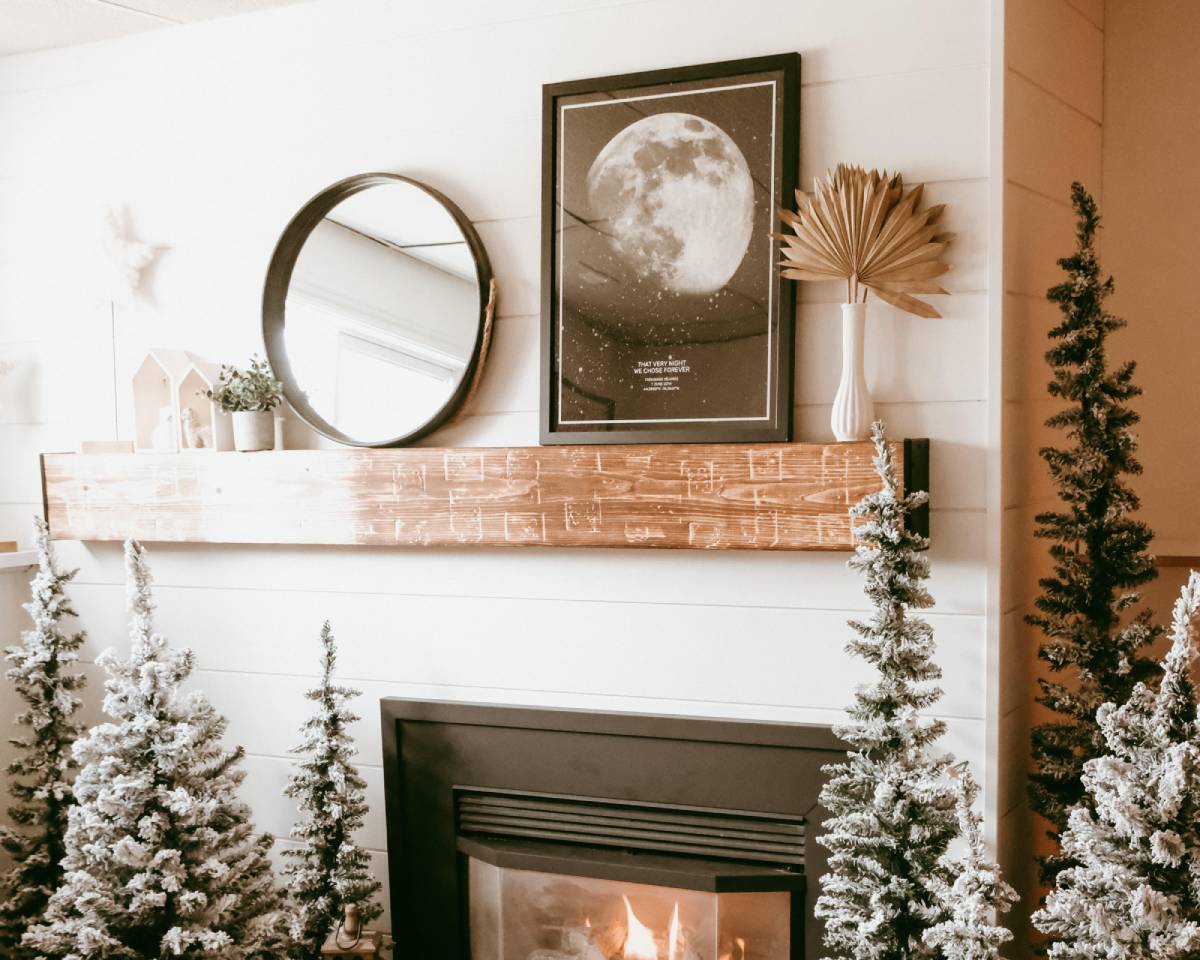 2. Wall Hangings
Similarly to the wall art we've mentioned above, celestial wall hangings add something to the room. The texture a wall hanging adds can really be transformative. You'll see the beauty in the stitching and you can even have a go at making your own. These can be in fabric format, but you can also use a large wooden or metal moon wall hanging to bring some life to the space. To be even more creative, get some thick cardboard and cut a moon from that before prepping and spray painting it silver. This will be one of the cheaper ways to add moon decor to the home.
3. Lamps & Vases
Did you know that you can buy moon-themed vases and lamps? They're one of the best options to add some touches of decor with the moon involved, without having to spend too much cash. You could even buy large planters or pots with the moon featuring as the main decorating item and plant white and blue flowers in them. It's a great way to brighten the balcony or refresh the sun room. Choose plants and flowers that make you feel calm; you won't regret choosing flowers that look beautiful.
Find out more about your Moon Phase
Every Moon Phase has a different meaning. Unmask the mystery of the Moon with us.
Enter your email below to receive more infomation about your Moon Phase.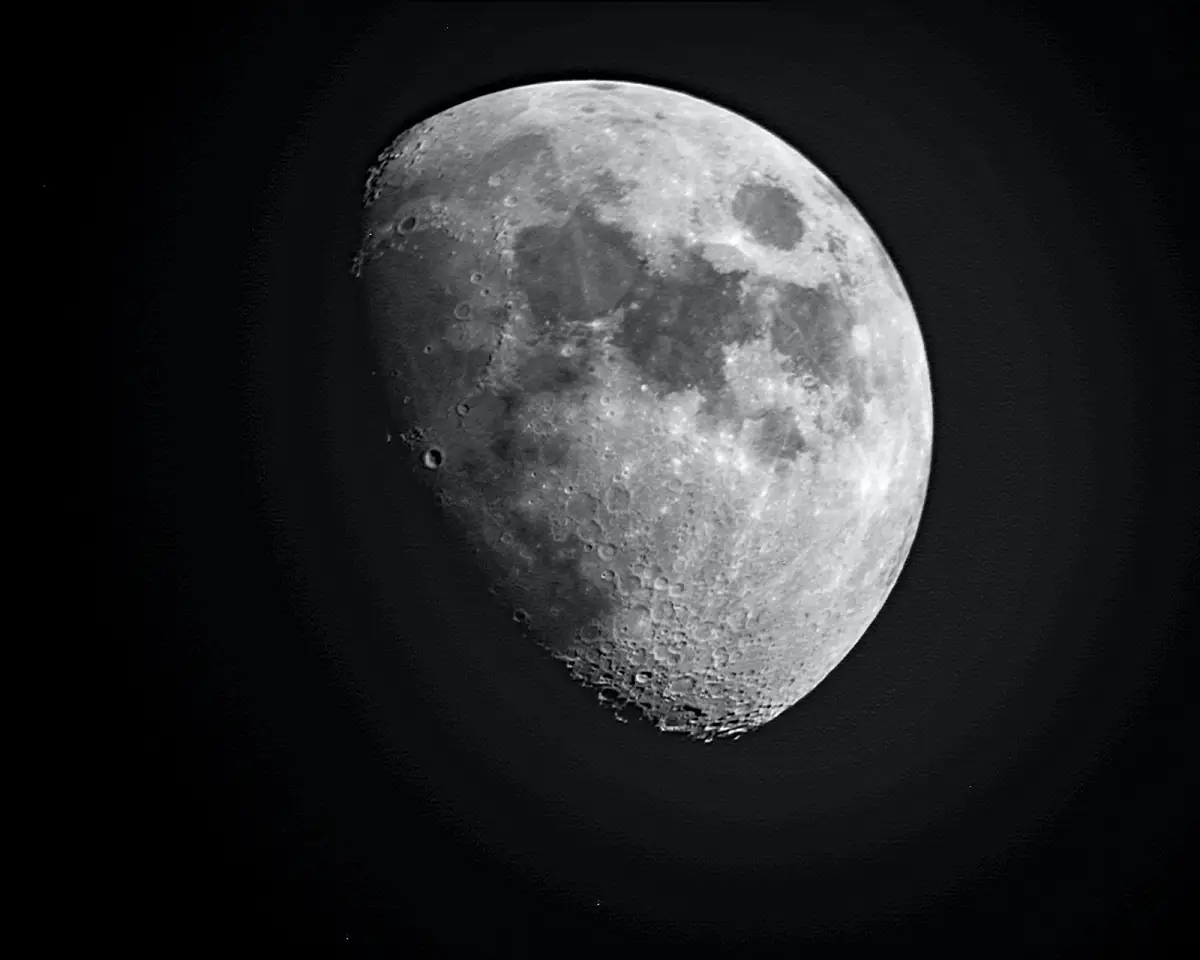 FIND OUT MORE ABOUT YOUR MOON PHASE
There are more secrets behind your moon phase. Enter your email below to find out more.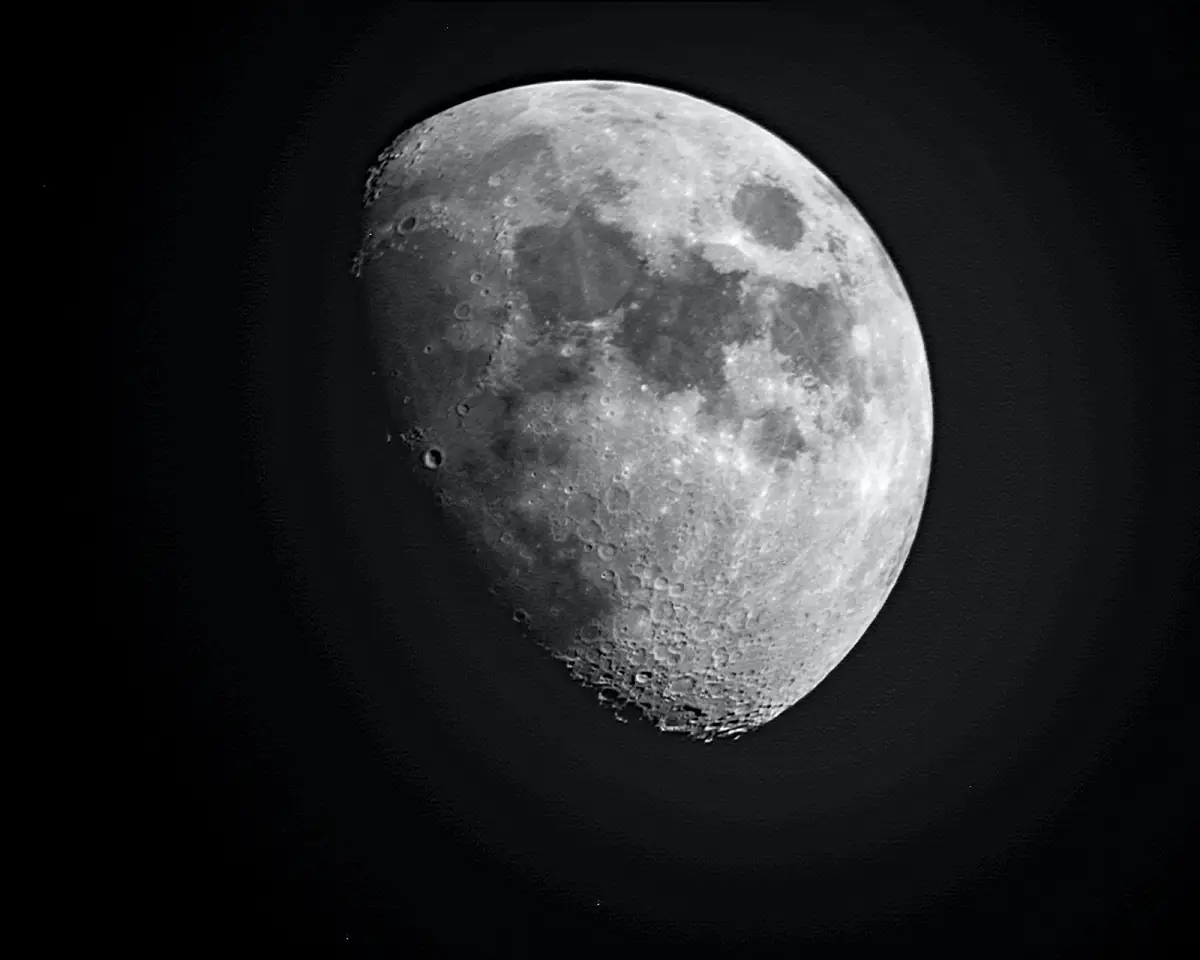 4. Moon Tapestries
We mentioned fabric wall hangings, but this isn't the same as a tapestry. Tapestries tend to take up the entire wall, and they're a good way to add some texture to the house, which only adds to the ambience with a large moon tapestry! Moon tapestries are trendy and they suit any room in the house, and you can buy handmade ones made with 100% cotton if you want to stay with sustainability in your home.
5. Moon Bedding
You want to sleep well, and with bedding offering moon images and decor, you'll get that perfect night of sleep. Celestial prints can be on the pillows, duvets, cushions and more. You can even get the pattern on the headboard replaced with more moon decor to embrace the night while you're sleeping. Children could benefit from this bedding, too, as they are encouraged to sleep better at night time. The moon is peaceful and calm, and it's comforting to sleep on something so beautiful and mystical all at once.
6. Moon Lamps
The moon does not emit light, but it does reflect the light of the sun. Did you know that you can buy moon-shaped lamps that look like the moon and emit a soft glow? You could even look for lampshades with cut-out moons and stars across them. These are the perfect addition to the bedroom, and they're such a unique piece to add to the home in general. Emit that soft glow everywhere you are!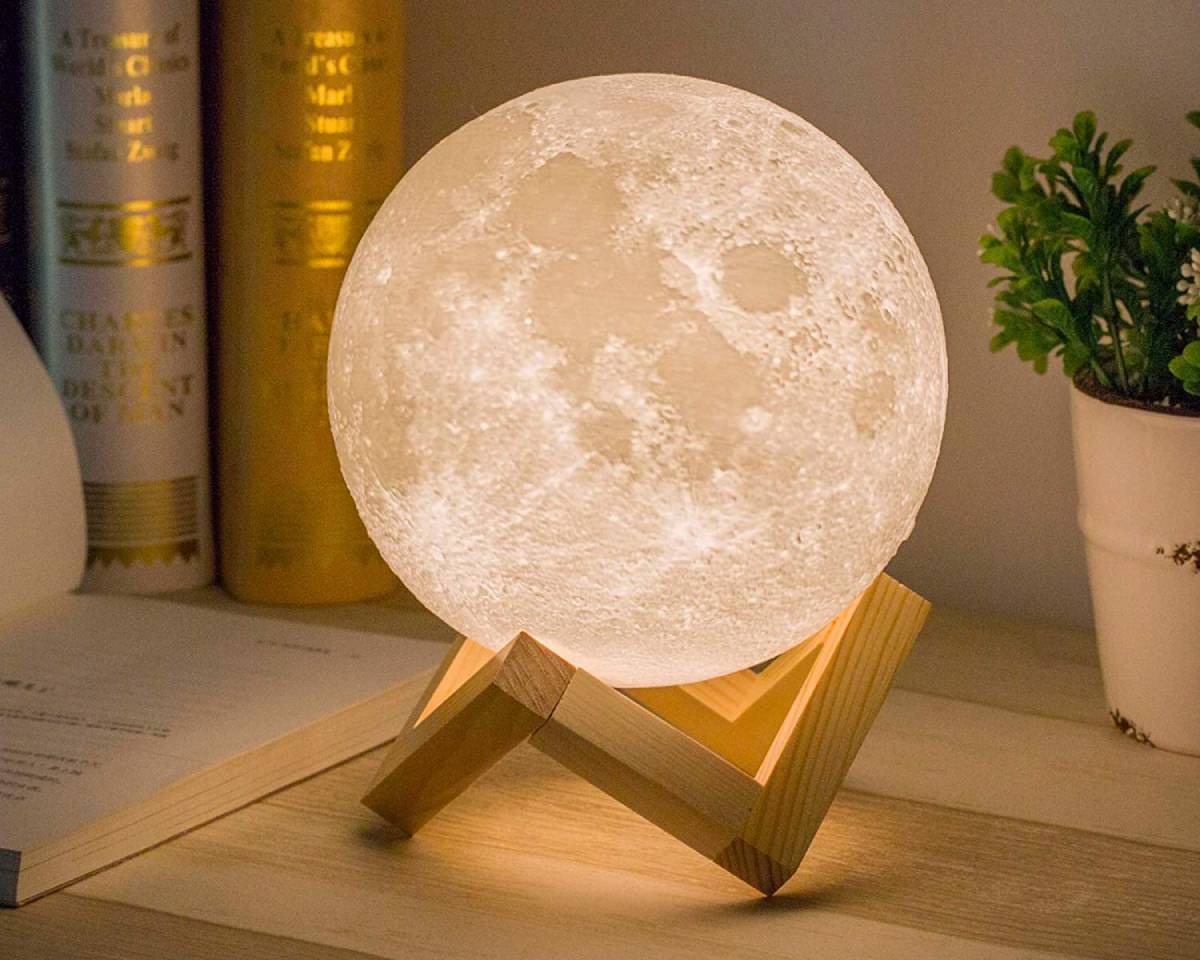 7. Moon Decor Paintings
Brightening up the hallway or the living room with a nightscape painting will be a beautiful way to inject some peaceful prints to the house. Paintings still add an element of texture and if you choose hand-painted pieces, you'll brighten up whichever room you choose to add them to. Your paintings can be bought from a gallery, or if you have a steady hand, you can paint your own! These can be as funky or as fabulous as you choose; it's your space!
8. Ceiling Decor
Laying back to look at plastic glow in the dark stars was a rite of passage as a child, but that doesn't mean you can't continue the tradition as an adult. Spray painting a large moon and stars moves the traditional moon mural to the ceiling and changes the way the room looks entirely. To lay back and see ceiling moon decor? It's perfect if you want that image right before you fall asleep at night.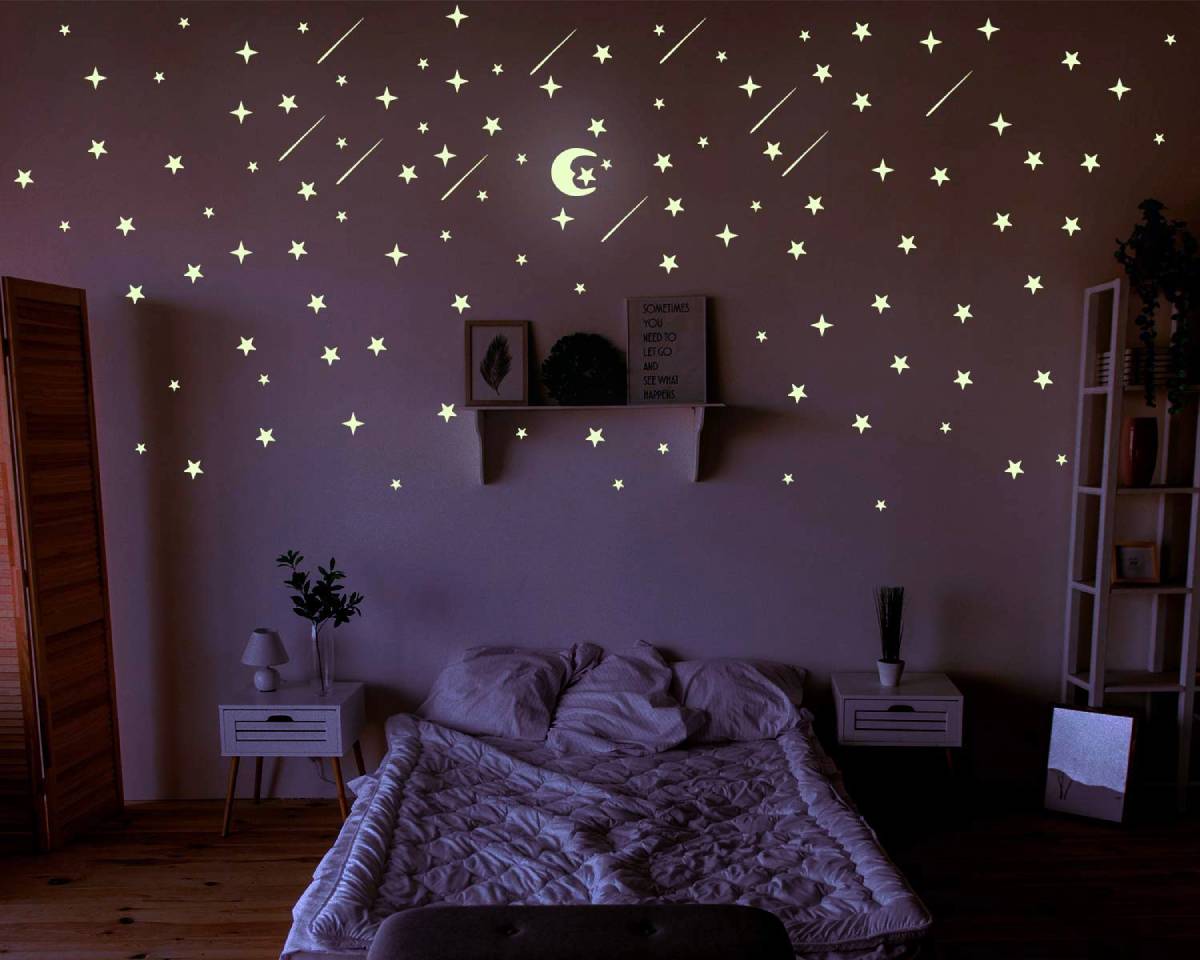 9. Moon Accessories
More than your space, you can brighten yourself with the right moon accessories. Think earrings and necklaces, brooches and watch straps. You can add the moon to you and be a celestial being all on your own. There's no need to worry about looking ethereal when you can use your moon decor to inspire you!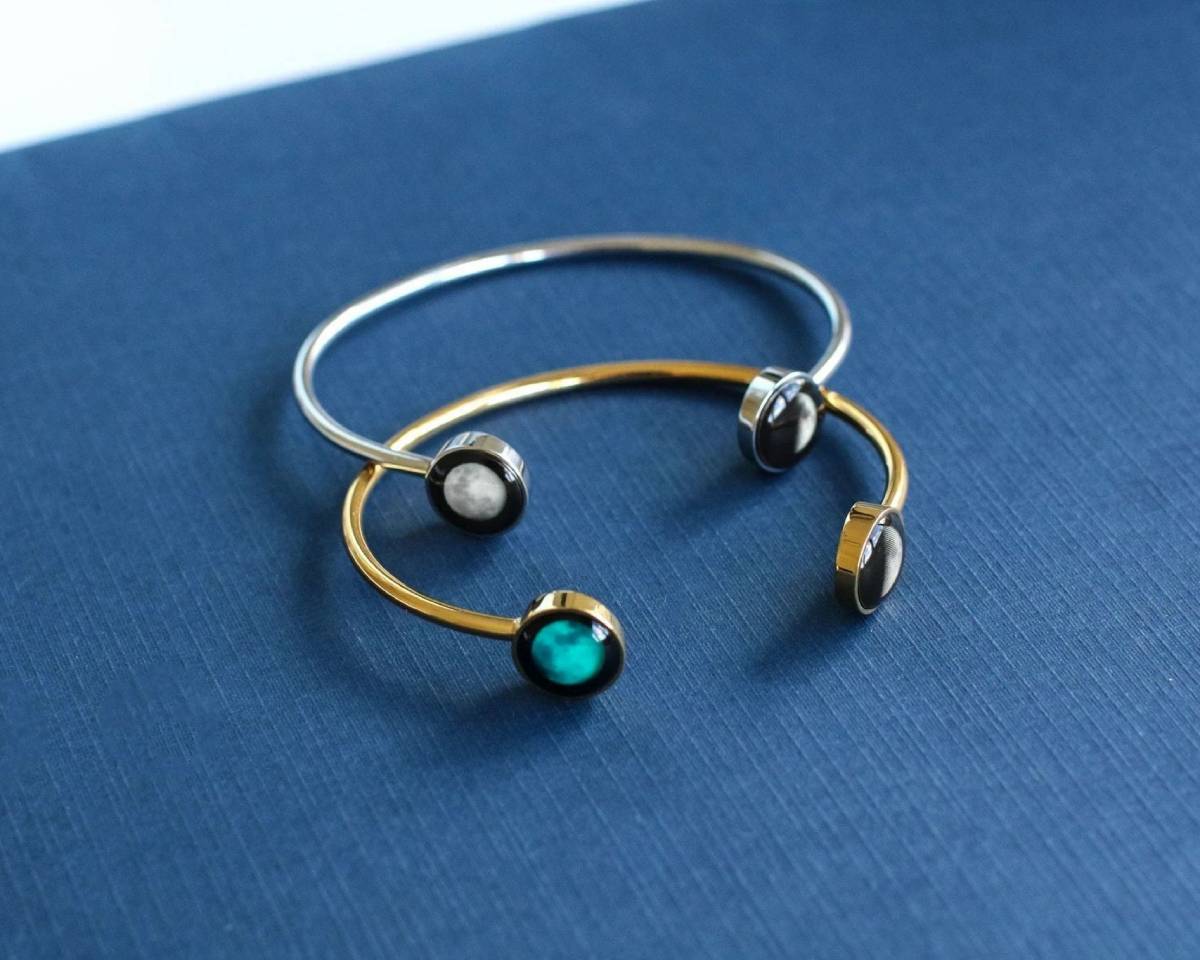 Capture That Very Moment
Craft your very own beautiful custom Moon Phase Print to encapsulate the magical moments in your life that you and your loved ones can treasure forever.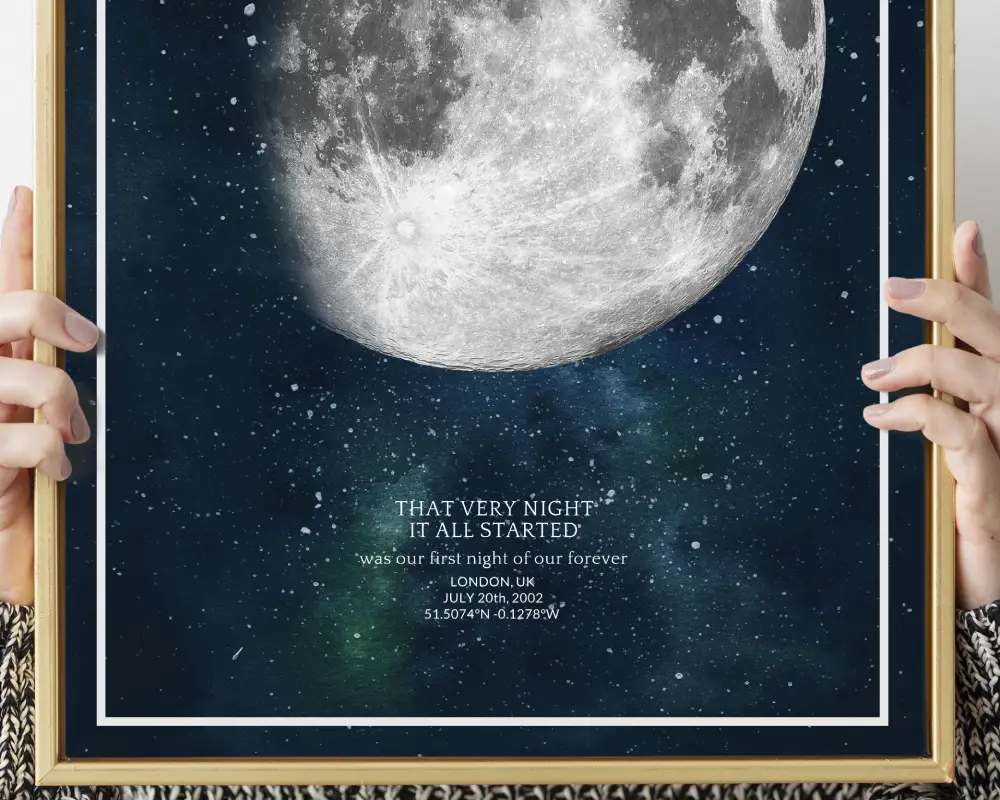 ---